Why is important to measure sales?
Counting money is an usual procedure so people and companies are capable to do this. Of course, if we do not count money ourselves, tax officers kindly force us to register all invoices written during the year.
The written invoice in the end of the year is the fact which barely can be changed. It is possible to take or not any action in the active sales stages – when we know that new opportunity appeared until contract is completed. Sales analysis just by completed sales is almost the same as to drive the car  following only by rear view mirrors. What is not measured cannot be evaluated and improved. In order to improve any of criteria – sales volume, profit or consistency it is essential to evaluate another criteria like open contracts number by sales stage, future sales schedule by closed date.
In order to measure sales these are necessary conditions:
All sales should be entered in CRM as soon as possible.
Sales must have the its management process.  The process – it is a procedure which follows from the start of the new opportunity appears to its end (win or lost).
Sales state should be observed in a real time and it should be done in CRM by changing sales stage. It is recommended to jump through stages or returning back.
Following conditions some additional benefits appear .  Measuring sales and putting the process to certain order, it takes CRM to higher level of quality.
Sales measurement tools
Wanted results can be gained in various ways  – by reports made in CRM, Excel reports or specialized business analytics tools. Our specialists work and recommend Power BI which contains plenty of functionality for a good price. Main business analytics pros:
Data can be analyzed and perceived in easy way. First, it is the highest level data when only key performance indicators are being observed (KPI), secondly it is possible to drill down  to the lowest level of data records.
Many visual elements – various types of charts, tables, maps.
It is possible to summarize data from different sources into one view including CRM, accounting applications, website, and many other sources data.
The most important sales flow measurement reports
Open Sales Pipe
This report shows the main company's financial "health" for the most recent period. If there are no open opportunities, you can expect no invoices in near future. This type of report is being filtered by two criteria – all available opportunities and opportunities which are in the final stages –  in other words any possible invoices which will be written in the future. By practice the most often stage follows after the fact that agreement to purchase is being received and only final touches are needed. Important criteria is to observe the number of days of inactivity, which helps to find problems in the sales pipe.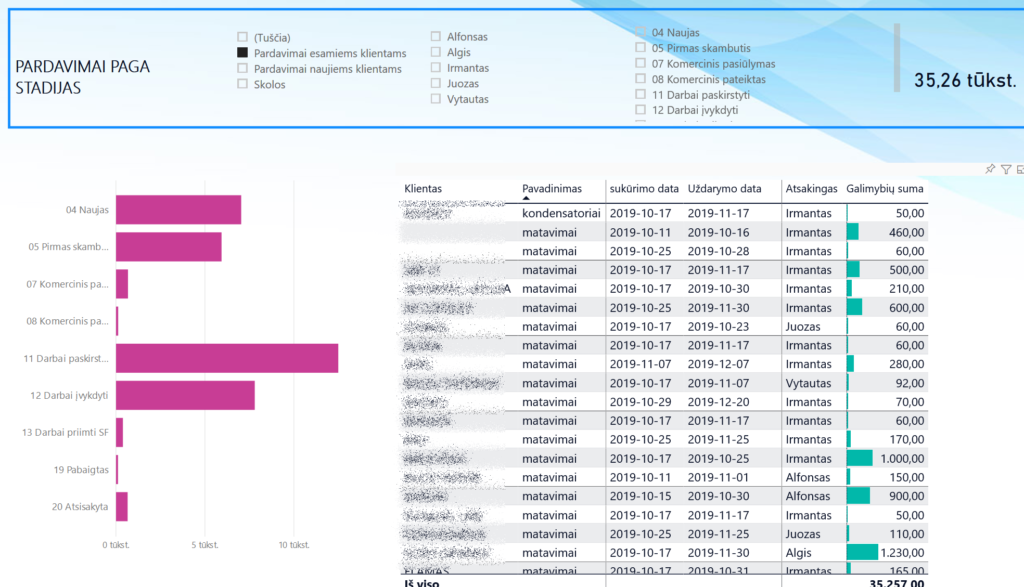 The other type of report – future sales schedule by closed date.  It works very well in those companies which sales date is very precisely entered and possible new orders are being limited by current resources. Confirmed sales schedule is formed every week and shows in what week all resources will be consumed and in what week more orders should be taken.
The everyday schedule report allows to see all orders which have being agreed but they are late. If business is related with services which are being provided in certain locations, it is very useful to see this report in the map.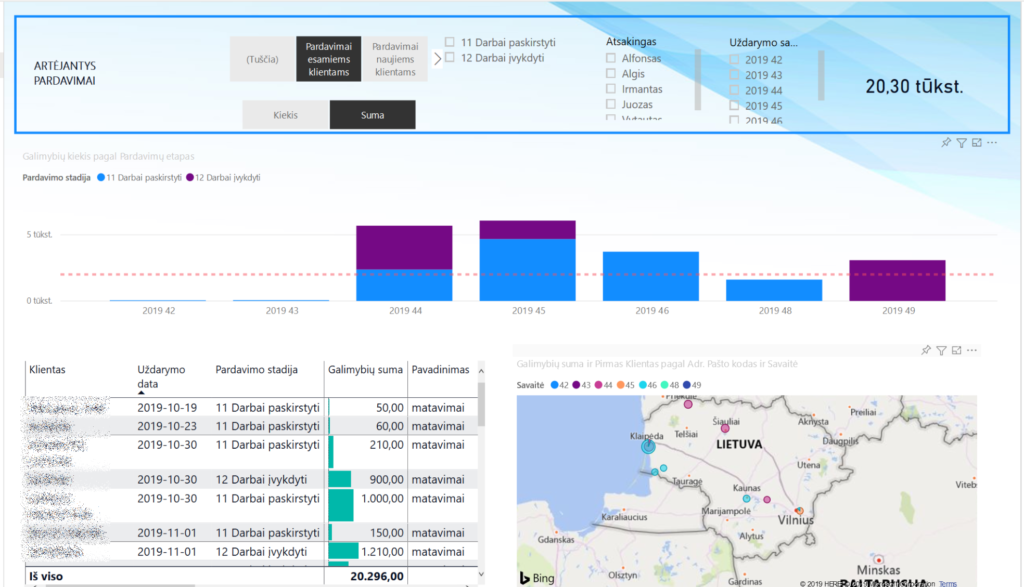 Opportunities movement through sales stages
Almost every director or sales manager have frequent questions – how sales are doing during concrete period? How many new opportunities appeared? Do any of proposals were provided and if any of them were confirmed by the client last week?
All answers could be received using opportunities movement through sales stages report. By choosing certain stage or period it is possible to see all sales opportunities, which reached concrete stage during that period.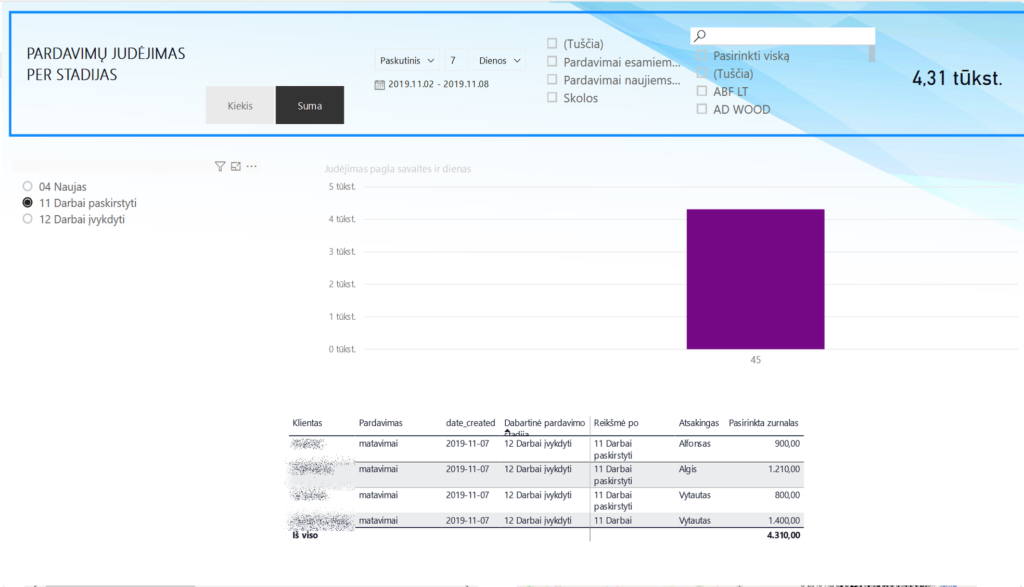 Lost opportunities
One of very important attributes of CRM  – an ability to measure and analyze not only successful opportunities but also lost one. Talking about to active sales, lost sales are not very bad thing because it is unavoidable. It is very interesting – if during analysis  we see that the person which execute active sales don't have any or almost any lost sales, the reasons can be one of these:
He does not execute any of active sales. In best case he works with current clients or clients which are very motivated.
He enters data into CRM too late, in the very end of sale, when lost opportunity is rare.
By analyzing lost opportunities it is possible to collect very useful information. In what stage opportunity was lost? What are reasons of losing opportunity in a certain sales stage? What is ratio of lost opportunities count per stage?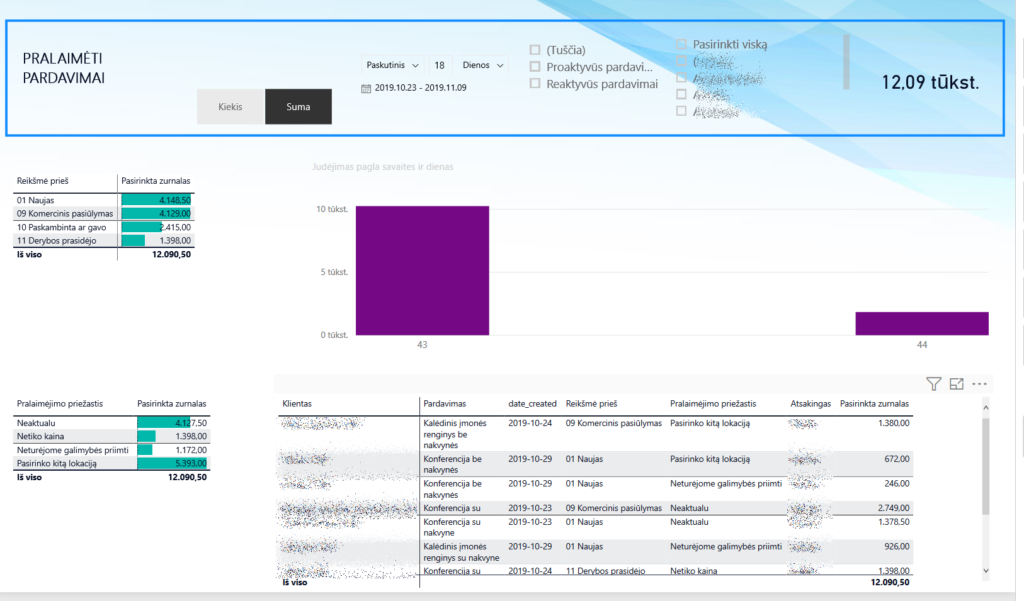 Activities
Sales activities like meetings, calls, emails and their quantitative measurement allows to know the minimum goal of  work load for sale persons. Sales managers help to understand or event to compare the work load of managers who work with totally different products or clients segments.  By comparing sales activities count and types with opportunities movement through stages report it is possible to know which activities or their intensity help to move sales opportunity to next stage or not.
Activities monitoring is very useful for newly hired sales persons in the department. Result can be visible after some time, so activities allow to understand what is the direction of the work and how intense it is.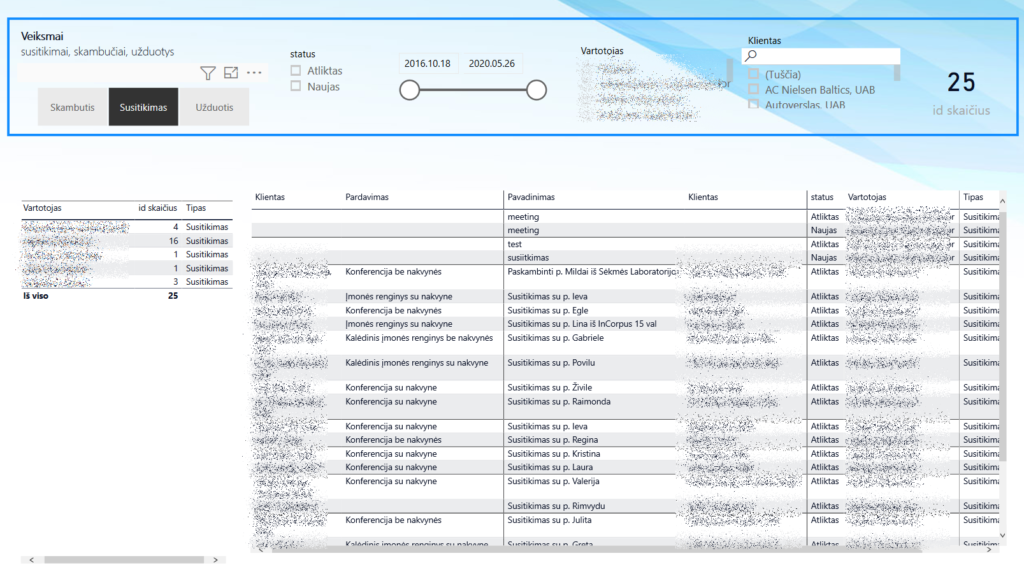 Next action of the opportunity
There is an often argument of CRM skeptics, that ,,our business is very unique and it is impossible to break down sales process, furthermore to predict their duration, because projects are very difficult".
Of course that sales process often deviate from our planned deadlines. A lot of reasons exist – one client wants more time to think, in another situation decision maker is on vacation or maybe sales person himself needs to take decision if he wants to work under such conditions where the client suggest to purchase here and now.
But almost everywhere universal rule exists – every open contract must have at least one next action – the call, meeting or task with a concrete deadline. In such case if the client wants more time to take decision, next call date should be registered in CRM and manager should take the responsibility in this contract. If decision maker is on vacations, it is not difficult to find out when his vacations end and create the task in CRM to write an email to the client when he will be available again in the office.
Some possible strategies exist while working with next action report:
All open opportunities must have next action.
Overdue opportunities must have next action and those ones which move through stages in time and are not late, can or cannot to have next action.
Next action must be just in those opportunities which are in certain sales processes, for example, new clients or certain price contracts.
It does not matter what strategy will be used, but sales manager should observe if next action is not overdue and if all opportunities which need it have it.
How it works or instead of conclusion
Even the best reports will not be effective if they will not be used or reviewed. It is best when it is done regularly. Even better if some conclusions are written next to report where some observations are provided about numbers. Also some next action should be planned in order to initiate changes.  Power BI provides an opportunity to comment and collaborate about processes and results. Also report views are very useful which could be just copied to weekly report in MS Word. It is very effective when weekly report is prepared for employees meeting in the sales department or as the report for the top management.